Skid- and track-loaders can be fun to drive, but as an all-purpose machine that tackles tougher projects, its functionality can be limited and frustrating.

Are heavier and thornier demands making you consider investing in a larger machine? Hold on a minute. You may be surprised to know how you can extend your tractor's capabilities with a simple, industrial-strength, bucket-extending tooth bar.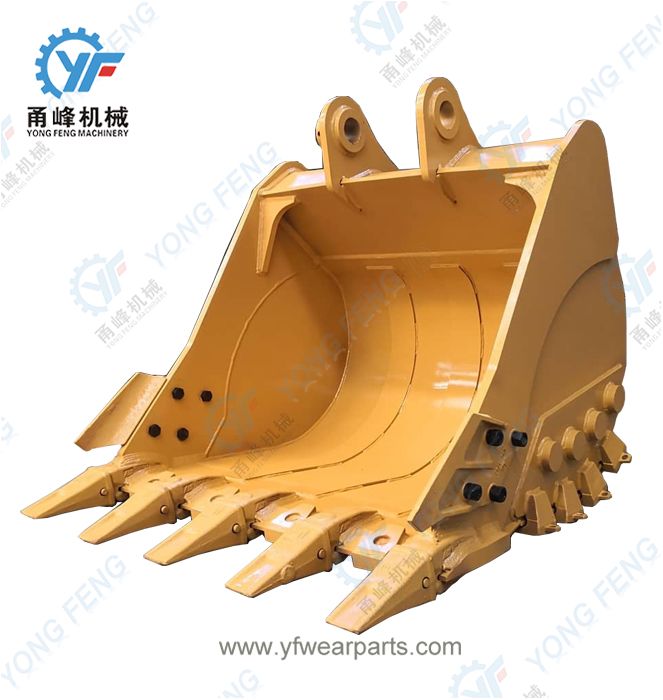 1. DO I NEED A BUCKET TOOTH BAR?
Customers have called this skid- and track-loader accessory a game-changer that has "totally transformed little Johnny" into a "digging machine!"
The physics is simple. How many times have you spun your wheels in the mud with the blunt force of a 50" bucket edge trying to push into hard-packed earth? Now compare the easy no-slip clamp-on bar of protruding teeth, each tooth spearing the dense clod separately as it crumbles into the bucket, grabbing roots and brush as it goes.
Landscapers, farmers, construction workers, and gardeners find tooth bars just the ticket to deepen excavation, dig up trees, and clear brush that a standard loader bucket can't handle.
Two Heavy Hitch tooth bar owners raved that their ramped-up skid loaders now felt more like a "tank." As one put it, "It ripped through 16" of rock and clay!" The other described it this way:
Not only does it cut thru dirt easily, but it is great for those basketball-size and bigger rocks you unearth from time to time. Just place a tooth underneath it and roll your bucket back. Flops them right out. Love this thing!
For only $300-500, considering you could do jobs you previously had to pay subcontractors to do, it will pay you back in no time, and make you feel like you have a brand new machine!
2. HOW MUCH MORE CAPABILITY WILL THE TOOTH BAR GIVE ME?
Tooth bar owners report numerous ways their bucket extender has expanded their loader's capabilities. It enabled one owner to help a neighbor dig a hole for a pool, for example. Another was able to finally complete the aggravating eye sore of a half-pond left by excavators on their property.
I bought a tooth bar with a heavy-duty bucket. It is built very well and the bolt holes line up perfectly with the existing holes on the cutting edge. This makes for very easy on and off. I've used it…over the last few months, but today I really tested it out. I have a large clay pile that has been settling and packing for years with a lot of 5-10-foot trees growing in it. It worked awesome. Not only did it break up the hard-packed clay but it was excellent at popping those trees out and then raking them out of the pile. I would have never been able to get into that pile without the tooth bar. For the price I would recommend that anyone with a tractor have one of these on hand. It really expands the tractor's versatility.
Is there any project you've been neglecting, knowing that your skid- or track-loader would not be up to the job? Is it time to dig out that stump? Or to lure deer closer this hunting season with a new watering hole?
Have it your way with this super-versatile attachment.
3. HOW DURABLE IS A TOOTH BAR AND WILL IT BEND MY BUCKET?
Tooth bars are manufactured by a variety of companies at different thicknesses, using different grades of steel. Some customers have been concerned about the wear and tear of bucket teeth metal on concrete surfaces, or their buckets unable to support larger loads, potentially bending their buckets.
Denise's Story
Farmer Denise Wildfortune tells a story about putting the Heavy Hitch tooth bar and its bucket to a true test on a three-day project that needed to be done before the snow flew:
"Are you kidding me! This Tooth Bar is amazing!…My arborist had sprayed invasive plants earlier in the season. After getting his approval to clear out the last section of my apple orchard…, I knew I had my work cut out for me. Snow was not that far away, so I ordered…expedited shipping. I got the darn thing the day before. I'm kidding, but it was fast.
"I mounted it the day after I received it and spent the next 3 days clearing brush. But then I found that it could take care of the saplings that were too large for my brush hog. I was digging up trees left and right and then carrying them off with the tooth bar. Managing my growing brush pile was a breeze as I could easily scoop up loose pieces around the edges and raise it at the same time.
"The big test was digging out the large root balls of some huge shrubs that were well entrenched. The tooth bar was marvelous for loosening the dirt all around the roots and then levering them out. I had feared that a tooth bar could distort my bucket so I kept a sharp eye on mine only to be relieved each time…I wish I had bought this one 2 yrs ago!"
5. HOW IS THE ORDER TURNAROUND AND CUSTOMER SERVICE?
A fifth consideration when considering a bucket tooth bar, as Denise reminds us, is how fast a company's orders are fulfilled, and how responsive they will be if anything goes wrong. This is no small concern, since time is money, and decisions on acquiring an accessory are often made in the middle of a project.
We have the advantage of a secure supply chain into the future. It ensures our quality products, but also insulates us from order back ups and the uncertainties of foreign markets and tariffs in our COVID-19 world.
If you have any questions, feel free to contact us today.