With respect to loaders, each equipment manufacturer has its own system and spacing, and within a given manufacturer's product, the spacing varies from model to model depending on the size. This means that the edges are unique for almost every manufacturer and model.
Loader rims and bolts on segments have the most options and are one of our most frequently customized products. Because the bottom of the bucket is virtually undisturbed, the possibilities for customization are almost endless.
The straight bucket system offers great flexibility and is designed to accept bolts on edges or teeth and segments. The base edges are drilled so the machine can be quickly converted from one system to another without any welding.
Bolt-on edge system Provides maximum protection for the base edge and is ideal for applications where penetration is not an issue. They also maintain a smooth, clean floor and increase bucket capacity. Bolts on the edge are easily replaced and can be reversed (or advanced) once the life of the first edge is reached.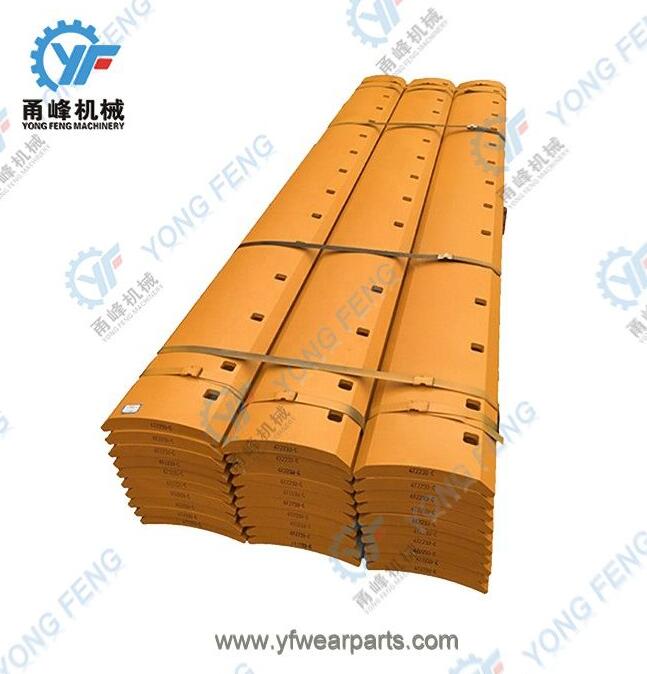 Loader bucket center cutting edges
It all depends on where they come from, some are made of high carbon steel and some are made of Hardox or manganese. Unless you know where or which manufacturer, Cat, John Deere or Volvo, it's hard to know?
It is called QT 100, which means hardened and tempered. It is also known as AR plate or wear plate. The supplier cuts them out of large sheets to our specifications. When I say specs, I mean length, width and thickness. We use them on the bucket to cut the edges. We also have them flame cut 45 at the leading edge to cut the edges. Before welding them in place, some preheating is required to prevent cracking of the weld due to the hardness of the material.
This should help them a lot as the last time I worked on a loader bucket was after the ark was docked and the bucket was made of wood. I'm sure he had one he wanted to punch or something.
A loader bucket blade? Made a lot of new cutting edges for the blades and have seen many different grades of steel used. I have mainly used AR 400 or QT100. it all depends on what the service is.
I know CAT now also uses the "Superabrasion" brand to align inserts and cutting edges. Superabrasion welding is bad, special procedures, still looks like crap ......
The maximum thickness of the cutting edge cross section on a loader bucket is limited to 35 mm. Bolt-on tooth adapters are rarely used on loader buckets with cutting edge thicknesses exceeding 35 mm. This recommended practice applies only to straight cutting edges defined as having parallel leading and trailing edges and therefore having a constant cross-section. Selection is based on the minimum cross-sectional width required to accommodate bolt-on tooth adapters. Note - for some heavy duty applications, larger blunt tips, larger miter angles and larger cross sections of the bolt holes may be required.
I used to haul steel on a flat bed, it was called AR500 and was work hardened. Mark it up. Cut it and it was done, no recutting or retrying these things. These materials have also been used to make grader cutting edges and bucket teeth for excavators and track hoes. Difficult and expensive to use, but performs well in a wear environment. The ability to hit the cutting edge directly with the holder without loss of edge or deformation. Just be 100% positive where you want the bolt holes and countersinks to be so they align after welding, cutting and sharpening the edges. Good luck, hope this helps.