The general condition of service bucket teeth in excavators directly affects the productivity of the equipment, and if their integrity is optimal, it will minimize the mechanical stresses transmitted to the machine, increasing productivity and thus extending service life and reducing maintenance costs.
A common mistake made by owners of excavators, backhoes, and other earthmoving equipment is to use the same type of teeth for different tasks, without considering the nature of the material they are moving or its characteristics. This limits the efficiency of the machine is reaching high productivity, increases wear and tear, and minimizes the life of multiple components.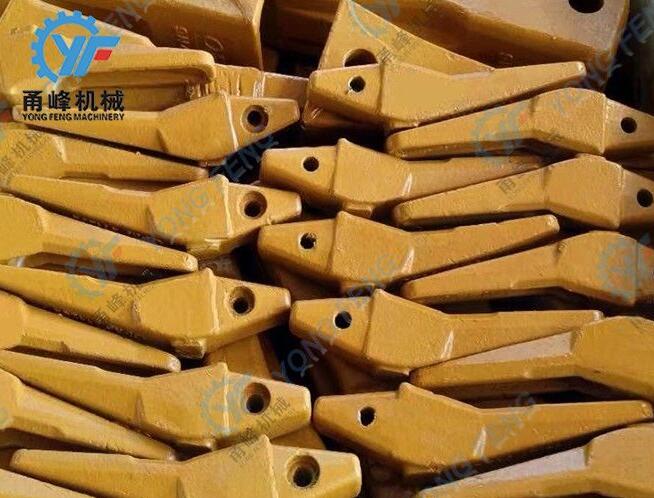 Consider the following factors before selecting the type of teeth you will use in your machine.
Tooth excavation range.
The structural design of a tooth is related to its digging range. Analyzing the type of soil, for example on compact, rocky, or frozen terrain, the best choice is a sharp or pointed tooth, as its smaller surface contact with the ground allows the repair tool to effectively penetrate the material. On the other hand, teeth with relatively wide tips are used on less compact surfaces or for handling materials.
Impact resistance.
The teeth of buckets are designed differently depending on the degree of wear of the work they will perform. To choose the right bucket teeth, consider the nature of the soil.
Several machine manufacturers offer their tooth classification systems, and you should contact your parts supplier to learn about their characteristics and uses, but in many cases, in any brand, you can identify any of the following types.
Tooth Types
Tooth Type: Universal
This is the default configuration for excavator buckets and its use is very suitable for loose or loose surfaces with low to medium wear and low to medium impact levels. Its primary use is for trenching.
Suitable for excavators in loose terrain with low wear and versatility. Specifically designed to achieve trenches and finishes. Impact: medium-low.
Tooth Type: digging
For excavators working on compact surfaces with high wear and impact, where a high level of digging is required, such as ice, rock. It has the disadvantage of low service life.
Tooth Type: Double jaw
They are used for highly compact surfaces with high impact levels, with a higher level of digging compared to the previous examples, and are recommended for execution in low wear environments.
Tooth Type: Chisel
Widely used in excavators requiring low to medium penetration and impact, they have a long service life and an optimal digging range in the above-mentioned soil types, although their use is not recommended for abrasive materials.